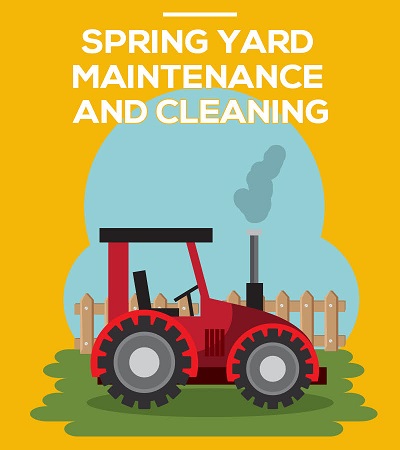 Lawns, plants, and landscaping need some tender loving care at this time of year to prepare them for the growing season. These tasks are essential for getting your yard ready for planting and gardening. To freshen up your yard, take note of these spring yard maintenance and cleaning tips.
1. Prune away dead and damaged branches.
This is one of the primary steps in spring yard maintenance and cleaning. Where branches have been damaged by snow, cold, or wind, prune back to live stems. For this task, use a handsaw for branches larger than ½ inch in diameter. For anything under ½ inch in diameter, it's recommended to use a hand pruner. Shaping hedges with hand pruners (instead of electric shears) prevents a thick layer of growth that prohibits air and sunlight from reaching the shrub's center.
Prune summer-flowering shrubs before buds swell, but wait to prune spring bloomers until after they flower. Also, trim overgrown evergreens back to the branch in the direction you want to encourage.
2. Clean up around plants.
Rake out fallen leaves and dead foliage, pull up spent annuals then toss in a wheelbarrow. Removing the existing mulch to set a new layer once spring planting is done.
Push heaved plants back into flower beds and borders. Spread pelletized fertilizer so that spring rains can carry it to the roots. Use a square-head shovel to give beds a clean edge and also to keep turf grass from growing into them.
3. Compost yard waste.
Dump collected leaves, cuttings, spent foliage, and last season's mulch into a compost pile. To accelerate decomposition, you can add a bagged compost starter to the mix. Keep the pile slightly moist and aerate it using a pitchfork every 2 weeks. Don't add any early spring weeds. They might not decompose and could sprout instead.
4. Prep damaged lawn areas for spring seeding.
In colder climates, the grass starts growing in April. Early spring is an ideal time to test the pH of the soil so you can assemble the right amendments. Remove damaged turf to prepare for seeding that should follow in a few weeks. Work in a half-inch layer of compost to keep new seed moist and to increase the germination rate. Start seeding once forsythia begins blooming in your area.
5. Patch or replace and paint worn wood.
Remove badly rotted/damaged pickets, boards, or lattice. Scrub wood structures clean using a mix of 2 gallons of water, 2 quarts bleach, and 1 cup liquid soap and let dry. Patch rotted sections using wood epoxy. Install new wood if necessary. Check wobbly fence posts to see if they need to be replaced. Scrape off old paint, then sand wood with 60 grit. Once temperatures go above 50 degrees F, stain or put on a new coat of paint.
Conclusion
Spring yard maintenance and cleaning are pretty straightforward. It only requires a series of tasks and having the right tools for the job. Just follow these steps and before you know it, your yard will look beautiful and spectacular.
For your property management needs, reach out to PMI of Greater Boston. We provide residential property management, commercial property management, real estate services, and so much more. Questions? Contact us.